Fall Out Boy
I Fall Out Boy (spesso abbreviati in FOB) sono una rock band alternativa, che fa musica, di Chicago, Illinois, USA. I membri sono Pete Wentz (bassista), Patrick Stump (voce), Andy Hurley (batteria) e Joe Trohman (chitarra). Hanno scritto canzoni di successo, tra cui "Thnks fr the Mmrs", "Sugar, We're Goin Down" e "Dance, Dance". La loro musica è per lo più come lo stile, o genere, pop-punk della musica. La band ha preso il nome di "Fall Out Boy" da un personaggio apparso in un episodio dei Simpson. "Sugar, We're Goin' Down" è stato il primo singolo del loro album From Under the Cork Tree. Ha raggiunto l'ottavo posto nelle classifiche di Billboard. Il secondo singolo è stato "Dance, Dance", che ha raccolto grandi successi negli Stati Uniti. Il terzo singolo è stato "A Little Less Sixteen Candles, a Little More Touch Me". Il loro terzo album è Infinity on High e ha avuto molto successo in tutto il mondo. Due canzoni dell'album sono state molto popolari in tutto il mondo. Sono "This Ain't a Scene, It's an Arms Race" e "Thnks fr th Mmrs". Il titolo della seconda canzone è "Thanks for the Memories" senza le lettere delle vocali, che devono sembrare come se provenissero da un messaggio di testo. Il terzo singolo di Infinity on High si chiama "The Take Over, The Breaks Over". Il quarto è "I'm Like a Lawyer With the Way I'm Always Trying to Get You Off (Me & You)". Il loro quarto album Folie à Deux, è uscito il 16 dicembre 2008. "I Don't Care" è stato il primo brano uscito dall'album. Alla fine del 2009 la band si è presa una pausa. Patrick Stump è andato da solo e ha pubblicato il suo album di debutto Soul Punk il 18 ottobre 2011. Il suo EP Truant Wave è stato pubblicato il 22 febbraio 2011. Il bassista Pete Wentz ha formato la band electropop Black Cards. Il chitarrista Joe Trohman e Andy Hurley hanno formato una rock band The Damned Things con gente degli Anthrax e Every Time I Die.
I Fall Out Boy sono usciti dalla pausa nel 2013, pubblicando un nuovo singolo "My Songs Know What You Did in the Dark (Light 'Em Up)" e un album Save Rock and Roll, insieme a un tour di supporto, sono andati al Save Rock and Roll Arena Fall Tour settembre 2013 con il gruppo rock Panic! alla Discoteca a sostegno dell'album. Nel settembre 2014 hanno pubblicato un nuovo singolo, intitolato "Centuries".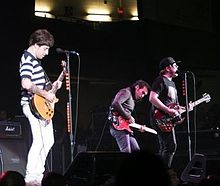 Fall Out Boy sul palco.


Discografia
Fall Out Boy's Evening Out with Your Girlfriend

(2003)

Porta questo nella tomba

(2003)

Da Sotto l'albero di sughero

(2005)

Infinito in alto

(2007)

Folie à Deux

(2008)

Salvare il Rock and Roll

(2013)

PAX AM Days

(2013)

American Beauty/American Psycho

(2015)

Make America Psycho Again

(2015)

MANIA

(2018)